Campaign Story
64-Pages of Hilariously Bizarre Adventures from Eisner Winning Writer Mike Baron!
Proudly printed in the good ol' U.S.A.!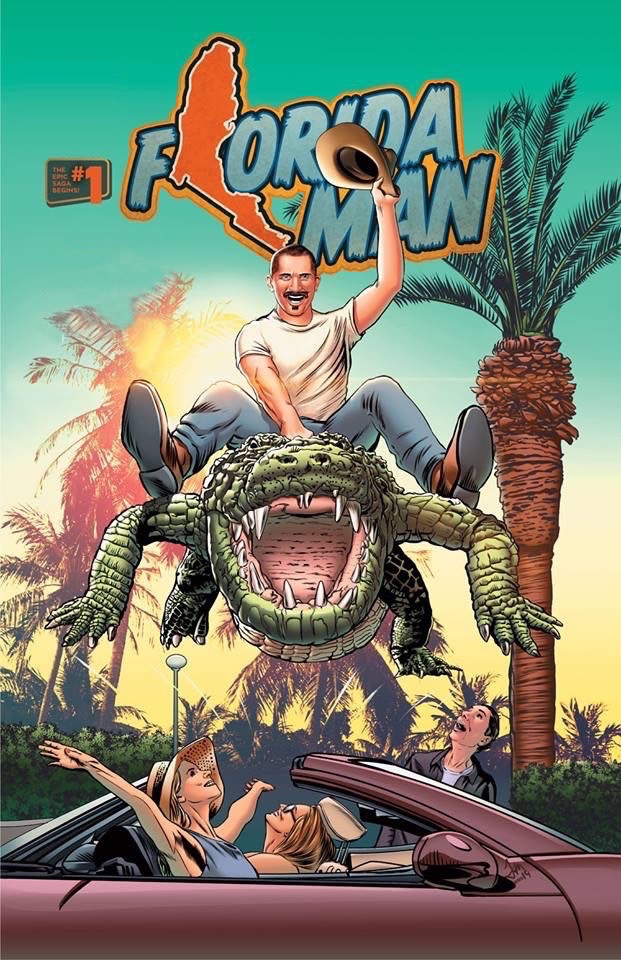 LEGENDARY COMICS CREATOR MIKE BARON DELIVERS A RIOTOUSLY FUNNY, HEART-FELT, AND ULTIMATELY UPLIFTING STORY WITH HIS LATEST COMIC BOOK PROJECT 'FLORIDA MAN'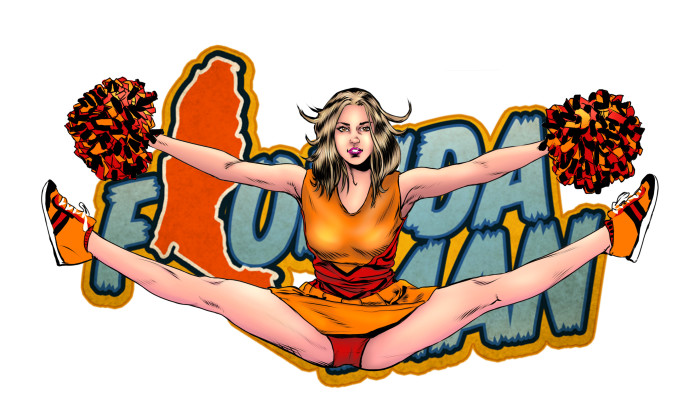 WHO IS FLORIDA MAN?
Gary Duba's having a bad day. There's a snake in his toilet, a rabid raccoon in the yard, and his gal Krystal's in jail for getting naked at a Waffle Castle and licking the manager. Gary is just a southern redneck living in a trailer down by the swamp, but he's got dreams, big dreams. But it seems like every time he tries to get ahead, fate deals him a low blow.
Then one day he gets lucky…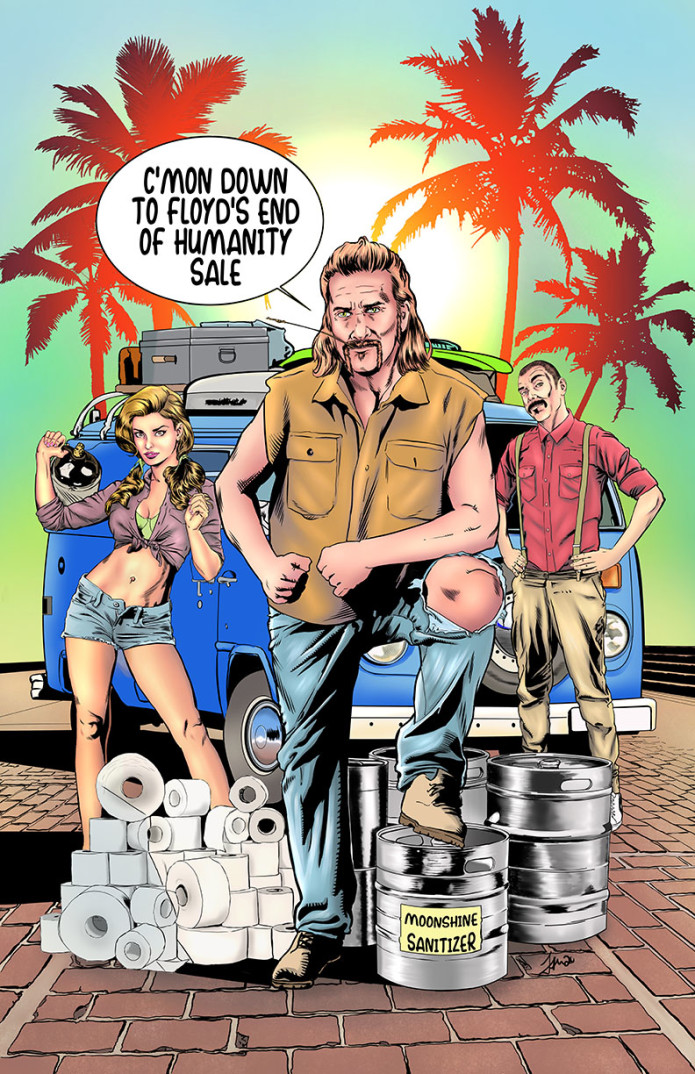 Along with his best friend, Floyd, Gary sets out to sell his prized Barry Bonds rookie card to raise the five hundred bucks needed for Krystal's bail, but like always, things find a way of getting out of hand. In fact, Duba's got a way of getting caught in all the wrong places.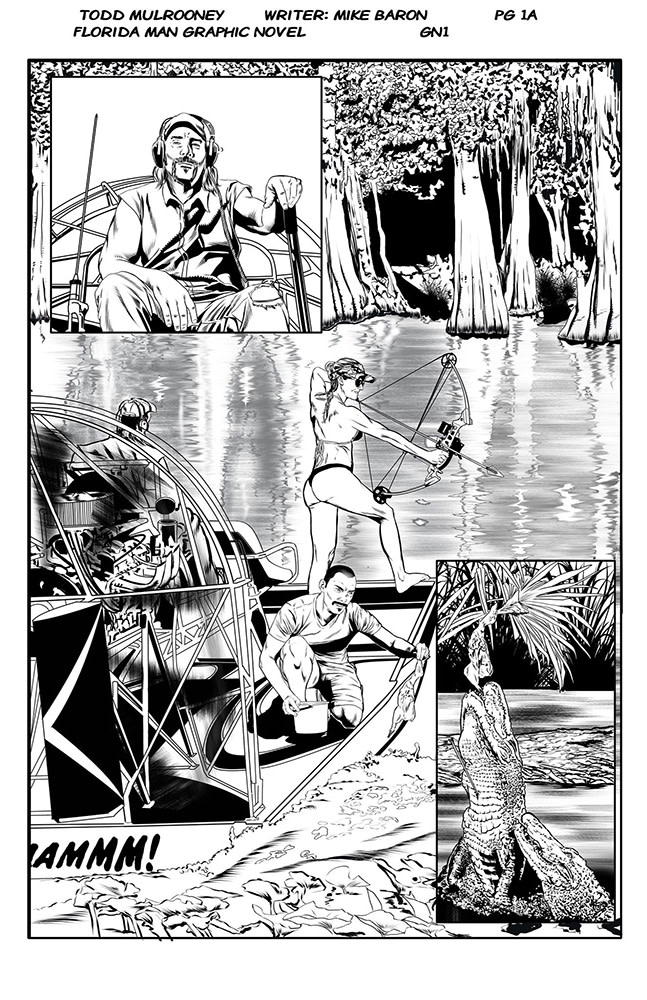 Uncolored splash page by Todd Mulrooney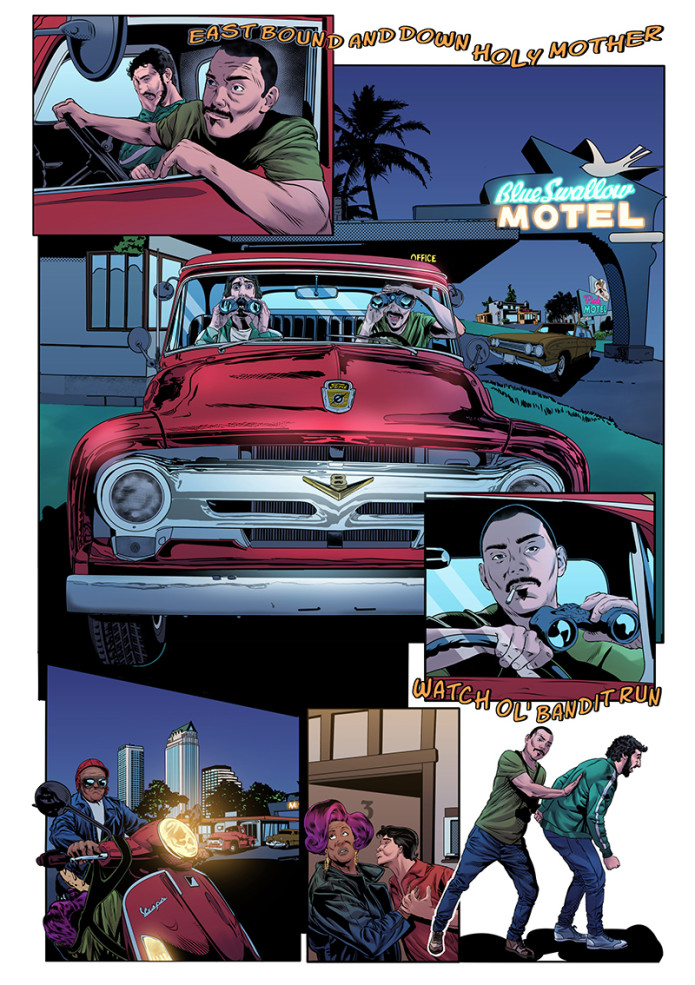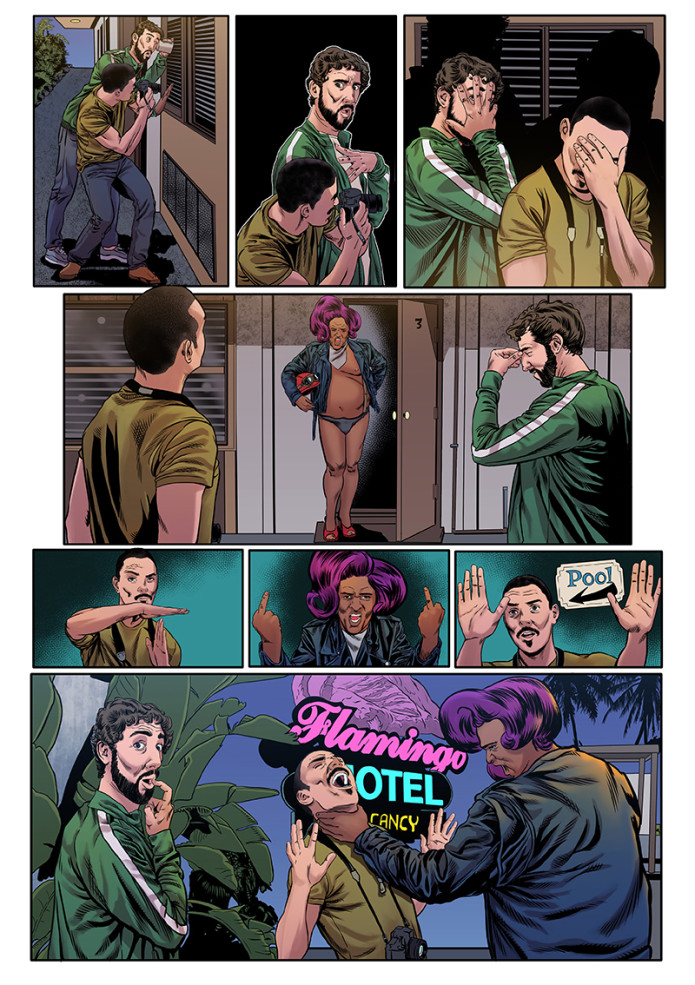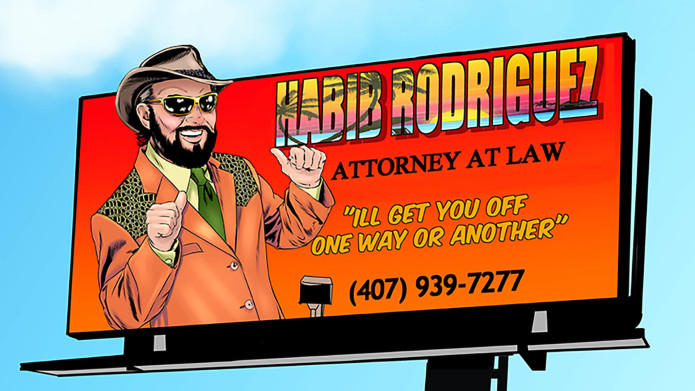 Not shady at all...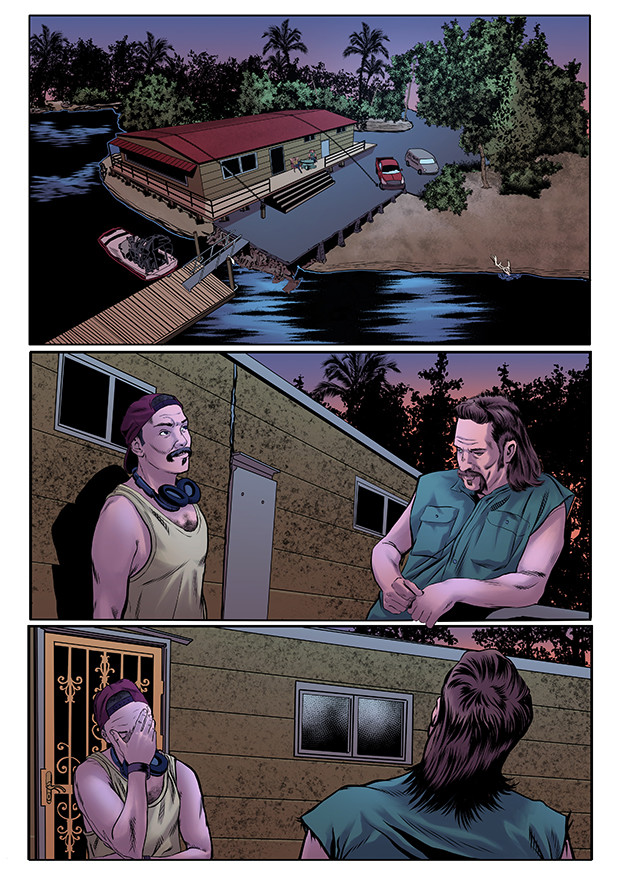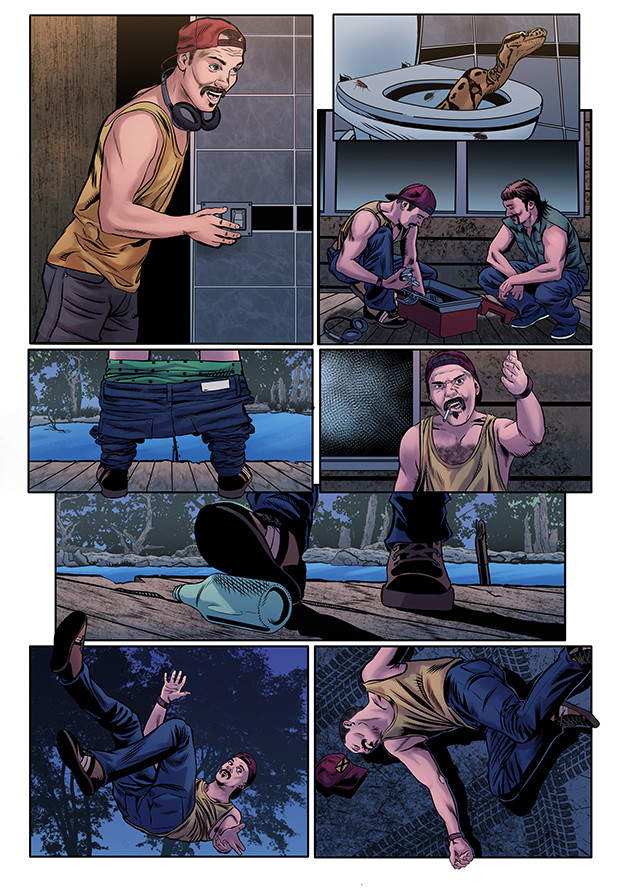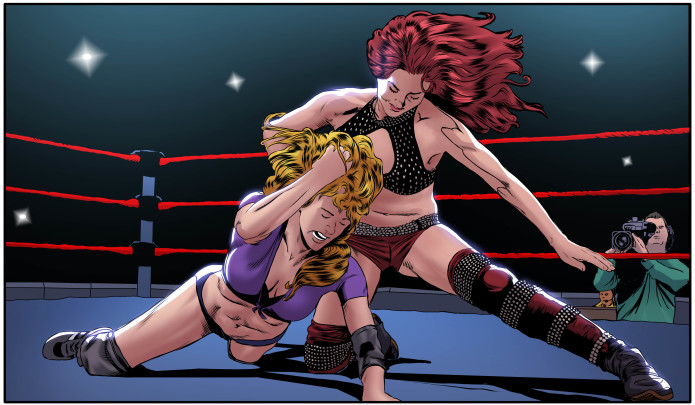 From ladies-wrestling to super secret detective work, Gary's always finding a new way to make a little money. Will his "House Suspenders" ever take off? Read 'Florida Man' and find out!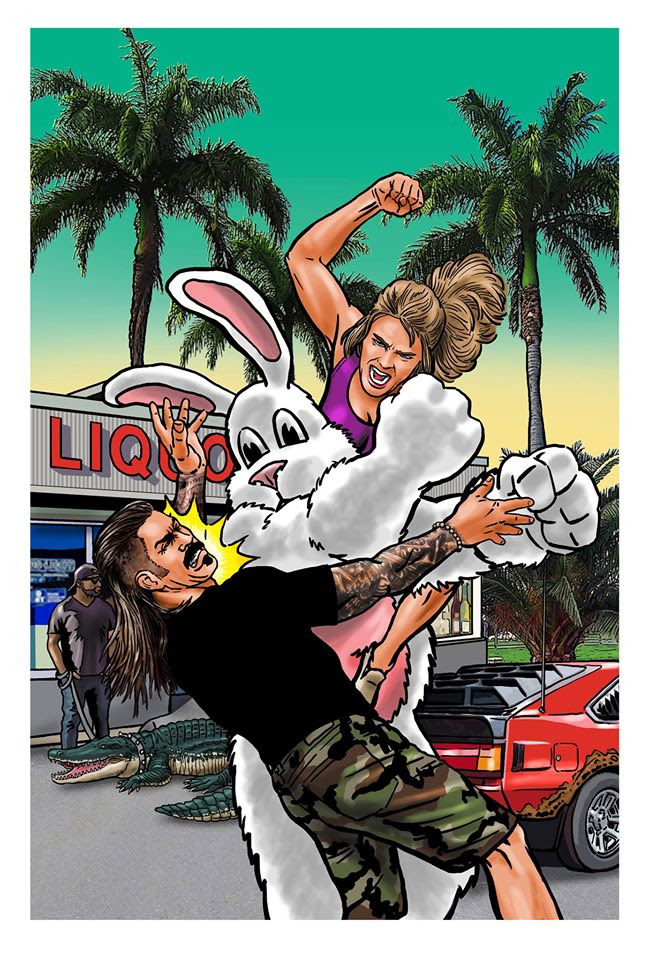 Pin-up by Joe Comstock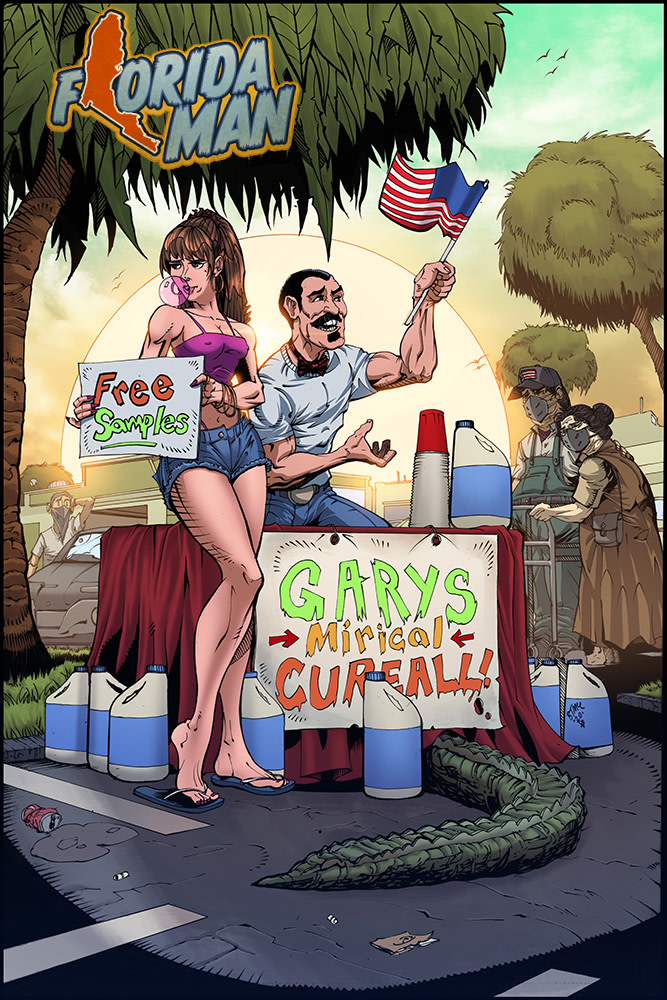 Pin-up by Barry McClain Jr. and colors by Ichsan Ansori
We're Bringing Back Funny Books, Ya'll!
THE CREATIVE TEAM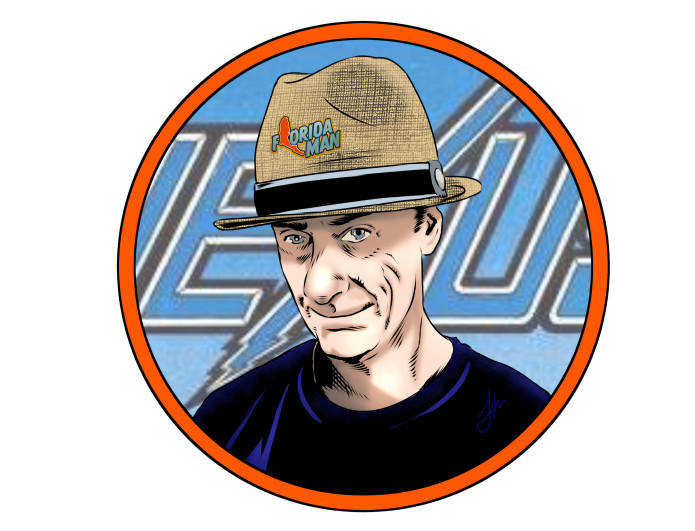 Mike Baron is the renowned author of numerous novels and several comic books for both Marvel and DC (The Flash, Punisher, Star Wars), but he is perhaps best known for Nexus, his groundbreaking science fiction indie comic co-created with illustrator Steve Rude. Baron has won two Eisners and an Inkpot for his work on Nexus, which has been published in five languages including French, Italian, Portuguese, and Spanish.
Baron's other creations include The Badger, Spyke, Feud, The Hook, and The Architect. Mike has also has written for outlets like Creem, The Boston Globe, Isthmus, AARP Magazine, Oui, Madison, Fusion, Poudre Magazine, Argosy and many others.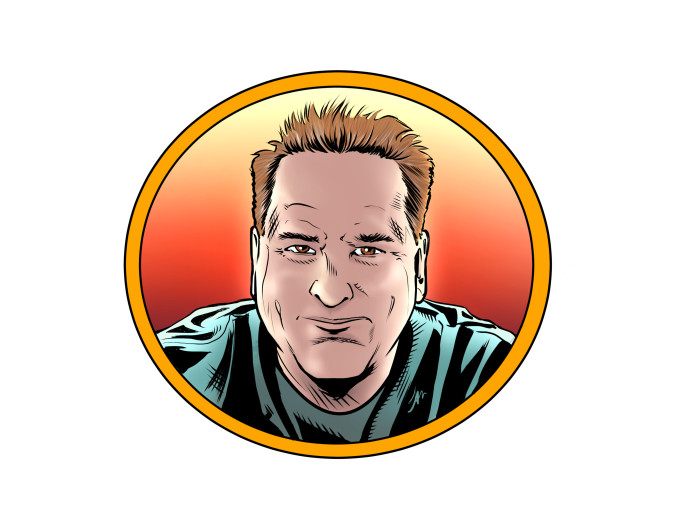 Todd Mulrooney is the main illustrator on the book and is an accomplished freelance comic book creator himself. No stranger to crowdfunding projects, Todd's last effort was as part of the Graveyard Shift Volume 2 supplemental comic as well as his own creation 'Ignition'! His artwork has also appeared on the cover of Narcopolis: Continuum from Heavy Metal magazine.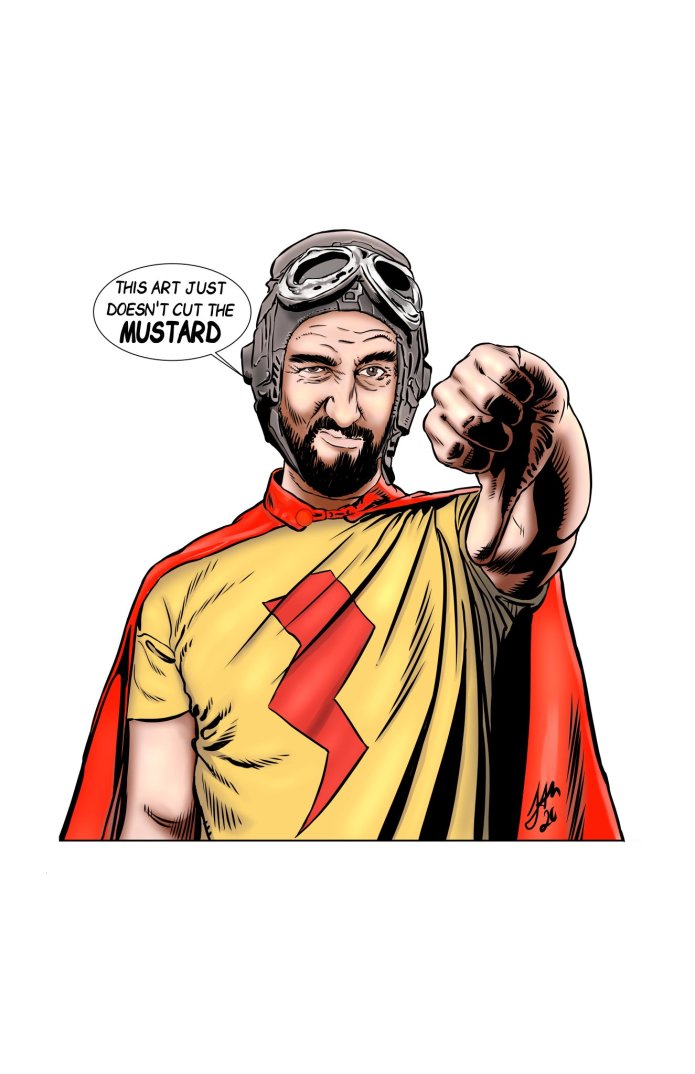 Ichsan Ansori is handling the interior colors. Ansori is an Indonesia native who attended the National Institute of Technology, Art and Design in Indonesia with a masters in digital coloring.

Chris Braly is handling the editing and marketing chores. Chris has been involved with media and video production for the past twenty years and is an accomplished producer. He's taking care of the promotional and editorial duties on this project as a newbie, so be sure to direct all overlooked misspellings to him. He's also the Managing Editor of a geek culture internet journal known as Bleeding Fool.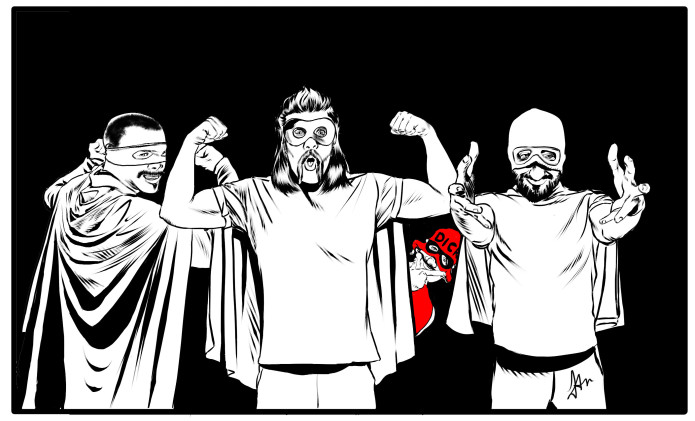 Several other brilliant artists have contributed their talents to this project already, including Joe Comstock, Brett R. Smith, Barry McClain Jr., and more! Plus we even have a few surprises in store for our fans!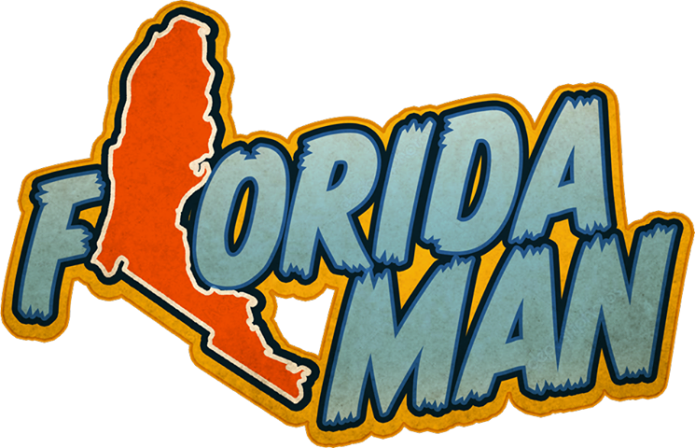 THE GAME PLAN
Beyond compensating the creative team for the work that's already been done, we are striving to create a professional product and get it into the hands of comic book readers and retailers all across the globe!
And in an effort to blow away audience expectations, we plan to publish this as a premium square-bound book, using the best paper quality, and use the best possible cover stock to ensure a rigid, solidly crafted physical copy. Plus, we're proudly using a professional comics printer established and printing here in the good ol' U.S.A.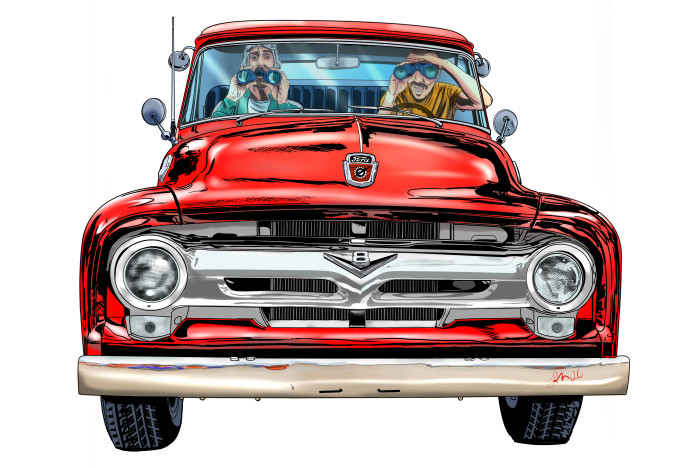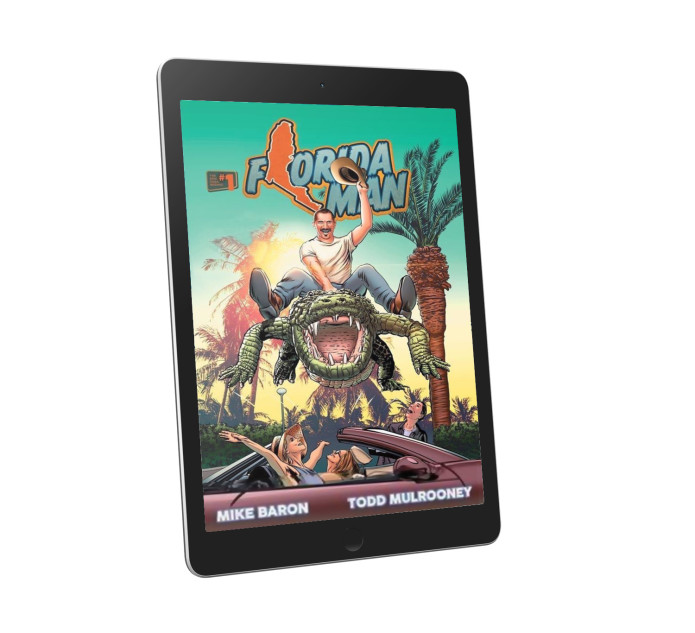 Grab a Digital Copy of the Graphic Novel!
OUR MISSION
We want to entertain you. And we believe in providing solid, professional, funny comic books for everyone who loves comics. If you like humor comics, you're gonna enjoy this one.
We want to make you laugh and inspire you to share that enjoyment with others. If we can make that happen, we've accomplished our mission.
Help us bring back funny books ya'll!!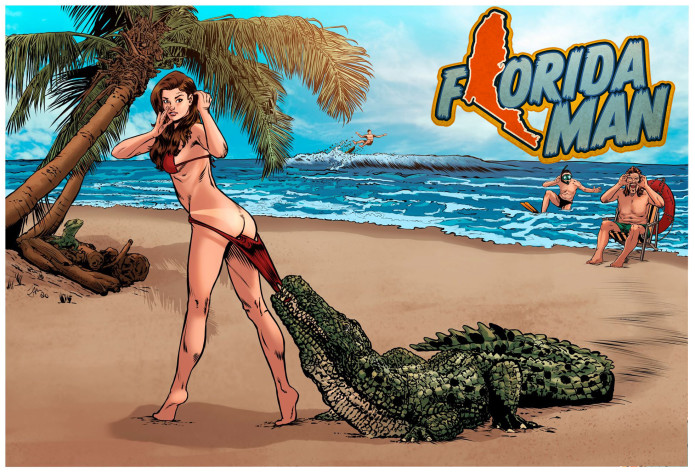 Gary's Girlfriend Krystal in an Exclusive Florida Man Postcard
HOW YOU CAN HELP
Help us get the word out! Please share this campaign on as many social media platforms as possible. Check out our updates page to see how you can win the referrals contest by just sharing this campaign! Hop over to our Instagram and our Facebook page at Florida Man Comic invite your friends! This will help us get Florida Man into as many hands as possible. And even if you can't back the campaign financially today, we hope that you'll share this with others who can help!
Thanks, ya'll!
Florida Man 64-Page Graphic Novel
$28.50
The 64-Page Florida Man Graphic Novel
Get yourself a glorious copy of the Florida Man graphic novel! 64-pages of grown up funny book in one easy to carry package, premium bound, and ready for laughter. The perfect size to hold in your grimy hands! Heck, we might even throw in some fun little surprise extras if we wildly exceed our campaign goals! Get some! Price includes shipping & handling
Minimum Quantity Order: 1
Digital Copy of the Florida Man Graphic Novel
$10.00
Digital Copy of Florida Man
Get yourself a digital copy of the Florida Man graphic novel! 64-pages of grown up funny book you can download to any smart device (that leaves Gary out), and get ready for laughter. Get some! Ain't no shipping & no handling fees here!
Minimum Quantity Order: 1
Step 1: Specify your contribution amount for Florida Man Graphic Novel